Stump harvester Pallari KHM-125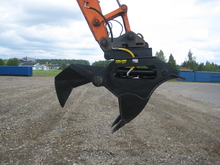 Stump harvester Pallari KHM-125 is device designed for braking and lifting stumps at site. KHM-125 can be installed with excavato's quick connector. This enables smooth change with other work devices like e.g. shovel.
With back plate of KHM the soil cultivating is also easy.
FEATURES:
easy mounting
wide usability
durable: hardened tensile strength steels
cost effective
can be fitted to most excavators
APPLICATIONS:
Can be used for tearing, cutting, and breaking all kinds ofwooden materials in forest and recycling centers and also in other similar places.
USAGE:
When loosening stumps shake excess dirt to reduce weight. Cut stumps and roots into smaller pieces to reduce size.
SPECIFICATIONS:
Hydraulic pressure (max.) 320 bar
Gap opening approx 110 cm
Cutting force approx. 31 t
Weight approx. 1600 kg
Recommendation (size of excavator) 18-23 t
Total height approx. 147 cm
Total width approx. 74 cm
Quick coupling according to base machine