Stumpharvester Pallari KH-160
Stumpharvester PALLARI KH-160 is specially designed multi-purpose device for hydraulic excavators to break up, loosen and take apart all kinds of stumps and roots. Stumpharvester is used for reducing size of all kinds of soft (wooden) recyclable materials.
Smaller and medium size stumps can be dislodged and picked up in one piece.
Larger stumps are first split, then dislodged and finally picked up in pieces.
First Pallari product has developed more than 40 years ago. Our products has several patents which moust are already expired. (for example 52511, 47826, 116997)
APPLICATIONS:
Can be used for tearing, cutting and breaking all kinds of wooden materials in forest and recycling centers and also in other similar places.
USAGE
When loosening stumps shake excess dirt to reduce weight. Cut stumps and roots into smaller pieces to reduce size.
Wide usability
Durable; hardened tensile strength steels
Cost effective
Can be fitted to most excavators
SPECIFICATIONS (subject to change without notice):
Weight (approx) 4700 lbs
Hydraulic pressure 5000 PSI (max)
Gap opening 53"
Base machine 44000-66000 lbs (recommendation)
​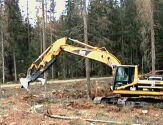 ​